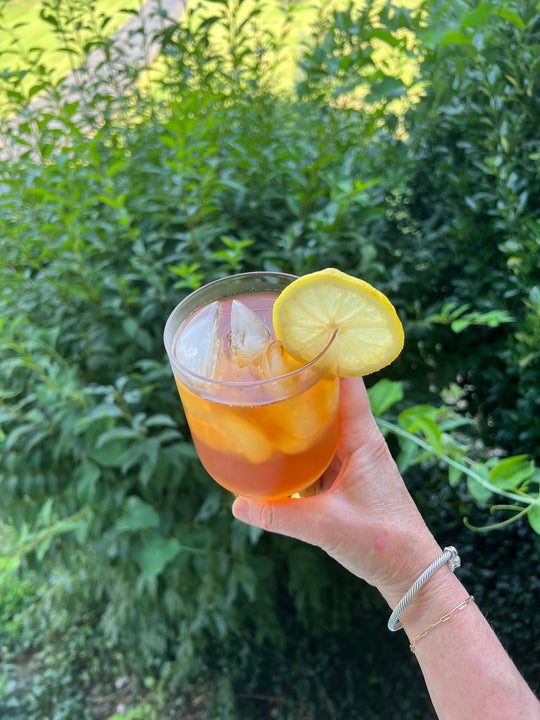 The Sweet Tizzys
They called themselves the Sweet Tizzys, because they realized early on that if your glass was full of sweet tea and bourbon, no one watching knew any better, and it made the long sultry afternoons at the community pool much more bearable. They alternated which one would stick to actual sweet tea, just to keep a proper eye on the kids.
None of them really remembers which one decided to start adding peaches to the pitcher. Three of them had peach trees in the backyard, and the fourth lived up the road from Reid's Orchard. All four claimed to have had the flash of genius. But regardless of who the original was, once those blushing beauties started to float in the tall, multi-colored aluminum pool glasses, they never stopped.

Even once the kids were gone and having kids of their own, and the metal glasses had been put through the dishwasher so many times they had lost all their colors, they still spent at least one afternoon a week together all summer long. Dipping red-tipped toes in the cool water of the community pool, occasionally running their ice-sweat glasses full of peach-scented boozy sweet tea over their foreheads, savoring the perfect summer sipper for girlfriends and gossip.


Peach Sweet Tizzy Cocktail 
Makes 2 cocktails
4 ounces unsweetened iced tea, either plain or peach
3 ounces bourbon
2 ounces peach schnapps
1 small peach, pitted
2 lemon rounds
1 sprig mint, plus more for garnish
2 Storied Goods Cinnamon-Vanilla Sugar Cubes
1 teaspoon lemon juice
Slice half of the peach into thin slices, and alternate slices in a pair of tall glasses with ice cubes so that the peach slices are distributed evenly. Slice the other half of the peach and chop into cubes. In the bottom of a cocktail mixing glass, add lemon juice to the SG Sugar Cubes, letting the juice soak into the cubes. Add the peach and the mint, and muddle until the Sugar Cubes are dissolved. Fill the mixing glass with ice, and add the iced tea, bourbon, and peach schnapps. Shake or stir until well chilled and blended, and strain into the two glasses, garnish with a lemon round and a small piece of mint.
Story and recipe by Stacey Ballis, www.staceyballis.com