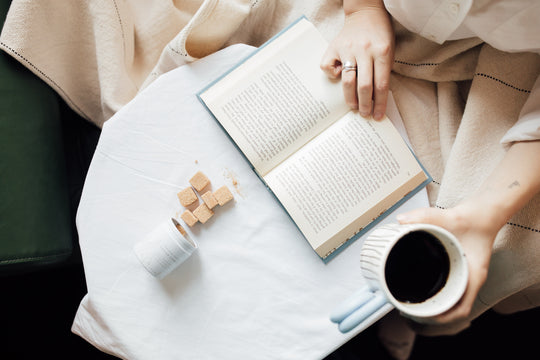 I'll admit it. In elementary/middle school, I was terrible at math, got a D on one of my leaf collections, and never won a Spelling Bee, even though English was my best subject. But my decorated Valentine's Day box…now that was a different story. What began as a discarded Keds box became a red and pink tissued, glittered, doilied, bejeweled masterpiece. 
The hole in the top of the box was big enough for hundreds of Valentine's Day cards, with heartfelt emotions and words from the kids in my class, like You rock, Valentine or You are a-MAZE-ing. When I was at home going through all 22 of my Valentines after school, I knew for sure that Christopher didn't just mean I rocked, but that I rocked. 
That box was a way for me to claim love for myself. Not just Christopher's love—turns out, much to my dismay, he thought a lot of girls in our class rocked and were a-MAZE-ing—but the love of all of my friends. Even the bullies, the girls who intimidated me, put Valentines in those boxes, and for an afternoon, everyone softened like a heart-shaped Reese's Cup in a hot school bus on the way home from school. 
I claimed love for myself when I signed my own Valentines to put in my classmates' boxes. Figuring out my feelings, letting everybody know. I've always wanted to be friends with her, so I will write 'xo' on Catherine's card. I need to make sure I do not give the one that says 'You're purrrrfect' to Kevin, because he is most definitely not purrrrfect. 
Naming and claiming love/not-love is critical to our ability to love ourselves and others well, no matter what type of love. Wherever we are in our love-journeys, practicing this naming and claiming love allows us to see and feel how wildly abundant the love around us really is. 
On February 14, 15, 16…whenever it suits you, let's claim and celebrate your love. Is it your Mom or the woman who has always been a Mom to you? Is it your best friend you've been missing because she/he lives so far away? Is it your beloved, the one you vaguely remember from the morning, when you were both cramming the kids in the car for school and trying to get to work on time? Is it your wonderful self, the one who hasn't felt genuine love from you in days, maybe weeks? 
Storied Goods wants you to get crafting, friends. Name it. Claim it. Celebrate it. We want for you this Valentine's Day, and all other days, the most sparkly, glittery, red, pink, gem-studded celebration of love you could ever imagine. 
For your Mom, grandmother, aunt, or any other woman who has been the bow to your arrow, helping guide your heart the way you want or need it to go…
Either in person, or over Zoom/FaceTime/phone, share a mug of coffee with our Cinnamon-Vanilla Cubes, or hot tea with Rose Petal Cubes, along with your best, and worst, love stories. 
For your best friend, the one who has helped carry your heart when you most needed it…
Share with her/him a glass of Champagne or sparkling water/lime juice with Rose Petal Cubes, along with the reasons you find each other so loveable. 
For your child, niece, nephew, or other favorite punkin', the one whose fresh joy lightens your heart…
Have a tea party on the floor with Rose Petal Cubes and exchange homemade Valentines. 

For your beloved…
A cozy fire and hot toddies sweetened with our Orange-Cherry Cube? Sounds pretty delicious. Champagne or Sparkling juice cocktails made with Rose Petal Sugar Cubes? Can't get more romantic than that. A quiet moment together with coffee and Cinnamon-Vanilla Cubes? Breathe in the love. 
How will you claim the abundant love around you? Let us know! And know that we ❤️ you today and every day!